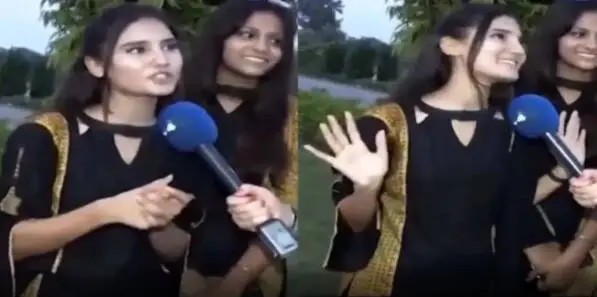 One again, our social media star without wasting time, made sure to sure to leave an impact in front of the whole audience. As a natural joyful person she is, Nimra Ali made an extraordinary impact on the morning show in front of the national television. In addition, the local audience is always excited to see this girl, lively, going famous worldwide.
Everyone will be surprised by viewing the confidence of this girl. Everyone is absolutely adoring her confidence! the morning show host requested Nimra to sing on live TV. Our Social Media Star sang the Hania Amir's famous OST of drama 'Anaa'. Believe me! her voice was melodious. Honestly, you all should listen to her singing skills yourself and enjoy her voice!
The community is definitely loving her confidence including us! Our Lahori girl is obviously one of a kind. She is full of confidence, happiest, active, zestful and funny lady we have ever seen in the entire world!
Also Read: Shireen Mazari's Daughter Epic Reply To Trolls Who Asked For Her Nudes
Absolute active personality, Wow!
She furthermore not only appear in the show but also, Yasir Shami from Daily Pakistan interviewed her. The interview video than got famous all over famous, Ali commented, "I am not at all crazy always but whenever I appear before camera, I talk a lot. This has been my constant style. Also in my home, in front of my household, I get very active and bouncy. Thus, whoever is of the idea that I lost my mind in front of Camera, that is not actually the truth".
The happy soul, zestful Nimra has made people love her at another level once more time. Nevertheless, seems very exciting to view anyone so native and absolute joyful. We all are secretly wishing to be just like her.
Are we all not just adoring her attitude? She is indeed a high spirited, bubbly and vibrant lady!
Here are some of the comments of Twitter Users
What a start of day. She gain put smile on my face 😆☺️ what an innocent soul she is. Already on of my favourite. I want to follow her on Twitter. Someone mention her account plz .. #Nimra pic.twitter.com/DvDu5aHt5j

— Yawar Hashmi (@YawarHashmii) September 24, 2020
Indeed! this one will never have any haters!
#Nimra, The girl with zero hatters ❣️ pic.twitter.com/L0HczwyJfN

— Showbiz & News (@ShowbizAndNewz) September 24, 2020
We can relate to her every comment… Seeing a person this active nowadays is very rare
Stop spreading hate on her , a happy lively girl like her is rare now sarey rooneh he leke bethy hai♥️#Nimra pic.twitter.com/KzG4f0uRjC

— Maha Khan (@ao_hassaon_yaar) September 23, 2020
Alright! alright! alright! this lady is truly proving the fact that lahori girls are far above than Karachi girls. Have you viewed her previous viral video with her relative?
Such a native soul. Do we all not want this personality and energy like her in our lives? May this beautiful sunshine always stay happy and dynamic! Moreover, Say MASHALLAH please.